White and Navy Dress
2016.05.24 Tuesday 19:48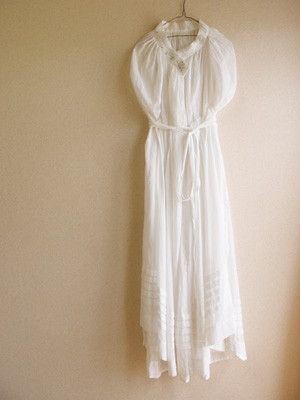 今回作っていた白いもの、それはドレス。
服を作っているパートナーとともに自分たちの結婚パーティーのためのドレスを作りました。 形をつくるのは彼、私の仕事は衿に刺繍を施すこと。 ウェディングドレスは着るのはもちろん作るのも初めて。長い道のりとなりました。
The white item I made this time is a dress.I made a dress for our wedding party with my husband who makes clothes.My husband made the design, and my job was to create the embroidery around the collar. It was my first time to make and wear a wedding dress. It surely was a long journey until perfection.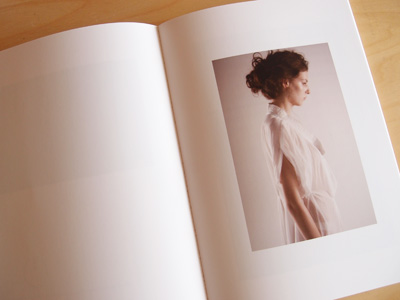 彼のブランド
"VIOLET"
の過去の作品の一つにアンティークのロングスカートをドレスにリメイクした一点物の作品があり、その美しい形を基に自分達の新しいドレスを作っていくことになりました。
Our dress was based on the beautiful shape of a one-off dress made using an antique long skirt from His brand
"VIOLET"
.
生地はコットンシフォン。ティッシュのように優しく柔らかく軽い気持ちの良い素材です。
The fabric used was cotton chiffon, which is a tissue-like soft and light fabric that feels good on the skin.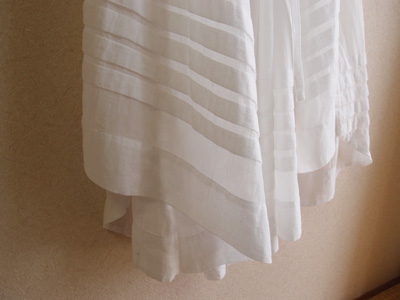 タックやギャザーをたっぷり入れたデザインをパターンにしてもらい、細長い衿の形に合わせた図案を大きな生地に刺繍をしていきます。 薄い白い生地の上に糸や古いビーズやスパンコールを使いながら大きな白い鳥がたくさんの花や果物を運んでくるようなイメージを描いていきました。
The design with lots of tuck and gathering was made into a pattern, and the chart that was created based on the shape of the slender collar, was stitched to a big fabric. I created the image of big white birds carrying flowers and fruits on the thin white fabric, using thread, antique beads and sequins.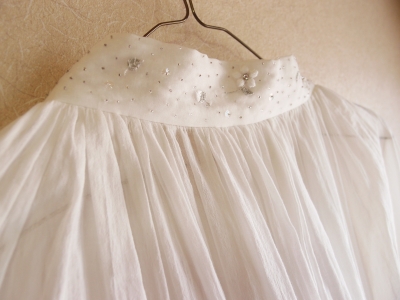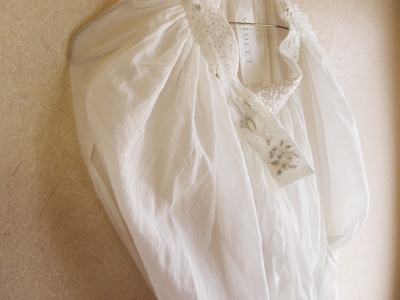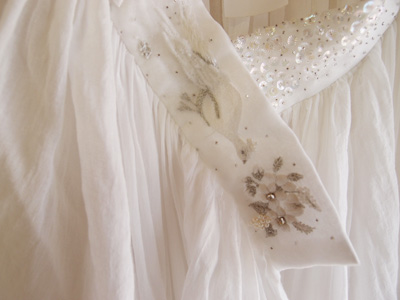 そして今回のドレス、せっかくならば作った形をこの後もずっと着られるように、と同じ形、同じ素材で色違いのネイビーでも制作。
Since I wanted to wear this dress for a long time, we decided to create a navy version of the same dress.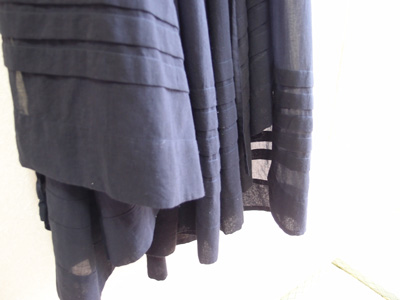 黒に近い深い紺に生地を染め、こちらの衿にはシンプルにヴィンテージの小さなシルバーのビーズを刺していきました。
We dyed the fabric to a black-like dark navy color, and simply stitched small silver beads on to the collar.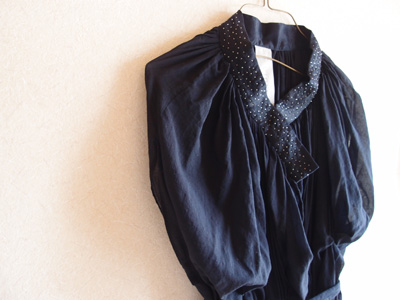 それぞれの刺繍が終わり、生地とパターンも上がり無事に縫いあがって戻ってきたときは何ともほっとして、うれしくて。
I was so happy and relieved when the embroidery was finished and the dress came back all complete.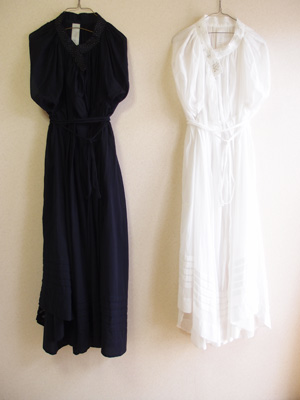 大好きな二つの色、白と紺の世界に一つずつ、二着のドレスが完成しました。 次回はパーティーの様子をすこしだけご紹介。
The creation of the two dresses of my two favorite colors white and navy is now finished. I will introduce a part of my wedding party in the next chapter.